A HUFFINGTON POST article was published by our friend Chris Lydon regarding Olivia's rare disease and the journey we have experienced. You can read it HERE. Please SHARE on your social media channels!
Olivia Lugani moved to Paris in August 2019 to start a new life with her family.
She now has a new home and more challenges to face at her new French school.
Due to her small size, no school in Paris was equipped with adequate equipment to meet her needs. This means special equipment must be built and installer for Olivia to be able to follow the curriculum with her sisters and peers. Everything must be privately funded.
We need your help.
The SUPPORT tab has a list of equipment, for which your donation will help provide.
———–
Olivia suffers from a rare genetic condition called Goldblatt Syndrome. As a result, due to her neck instability and severe spinal curvature, Olivia experiences from pain everyday. She is unlikely to ever walk independently. Yet, she refuses to ever let her condition define her. We are raising money for her essential equipment needs, as her disability restricts her from many things. The fundraising success will increase her quality of life.
Any donation will be appreciated and solely benefit Olivia.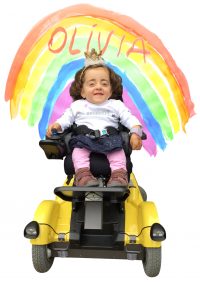 Fun Family Afternoon – Fundraising Event
Our first fundraising event, Fun, Family Afternoon, was held in June, 2017.  We are very thankful to those who supported us on the day. Goldcrest Land generously sponsored the worthwhile event. Our aim was to raise awareness of Olivia's rare condition and provide an afternoon of fun. Photos from the event depict the joyous occasion had by all. Please see the beautiful photo gallery by Sabbou Photography by clicking on our gallery below. The children's entertainment was donated generously by PERFORM, Bedazzled Events, and Kelly Sparkles. Goodie bags by Kidsorted, the local black book for families.
I have two sisters, one older and one younger. I am sandwiched in between! They play with me and make me smile when days can be tough. I have a lot of pain and many doctor's appointments so doctors can check on me. Mommy and Daddy give me cuddles to make me feel better.
The Syndrome
WHAT IT IS & HOW I DEAL WITH IT
I'm an extremely clever girl, but I suffer everyday from pain. The main symptoms of Goldblatt Syndrome are short stature, joint laxity, muscle weakness, narrow chest, and dentinogenesis imperfecta. Mommy takes me to appointments with doctors all over the world to help me feel better. I have Physiotherapy, Occupational Therapy, Hydrotherapy and Play therapy every week!
This error message is only visible to WordPress admins
Error: No posts found.
Make sure this account has posts available on instagram.com.